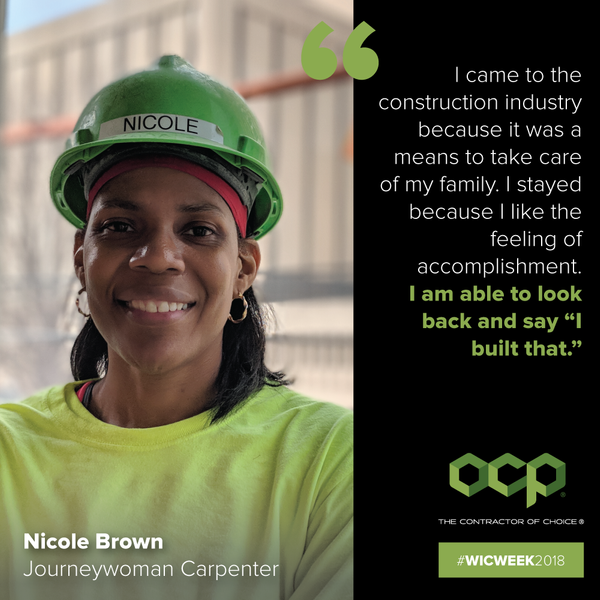 Nicole Brown
JOURNEYMAN CARPENTER
INDUSTRY TENURE: 22 YEARS
How long have you been in the industry? I've been in the construction industry for 22 years.
How long have you worked for OCP and how has your role progressed? I've only been with OCP for 6 months. I'm able to work more independently as opposed to having a partner, which is cool. I don't have to fight about what's right and what's wrong.
What brought you to the construction industry and what made you stay? I came to the construction industry because it was a means to take care of my family. I stayed because I like the feeling of accomplishment. I am able to look back and say "I built that." I can show my kids the projects I've done. So I like that, it's cool.
What has been the highlight of your career in construction? When I went to Las Vegas for a Sisters in the Brotherhood Conference, and then I realized how many women there really are in the construction field. I was really impressed with all the women that were there.
What is your favorite aspect of your job? I like framing. I used to do concrete form work, and it was heavier and a little bit more laborious. This seems to be a little bit more down my alley. I can handle the material better, and work more independently.
What would you tell another woman interested in joining the industry? I would say don't be intimidated. Just because it's a male-dominated field, doesn't mean you can't get into it. Do what you can do. Try to learn as many of the aspects of the trade as you can, and then focus on what you do best.
To learn more about Sisters in the Brotherhood visit https://www.carpenters.org/sib-join-us/.