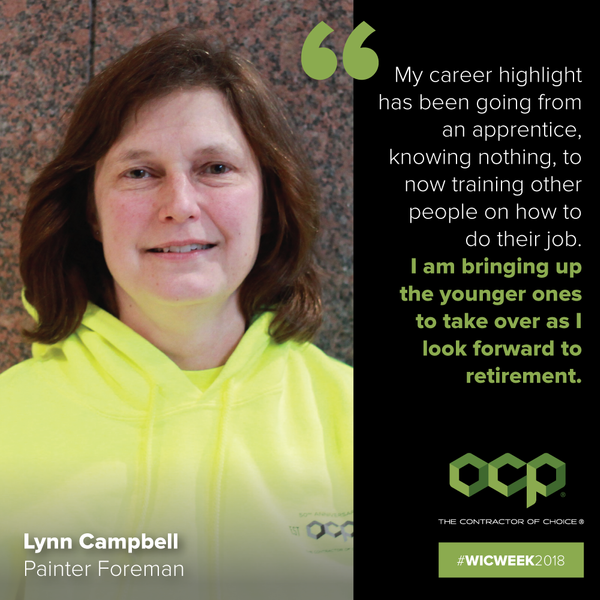 Lynn Campbell
PAINTER FOREMAN
INDUSTRY TENURE: 30 YEARS
How long have you worked for OCP and how has your role progressed? I've worked for OCP for 17 years now, been in the trade for 30 and my progress is I came in as a journeyman and worked my way up, and now I am a foreman on projects.
What's your favorite project so far? A little of everything. I like it when we can do different things as in faux finishing to wallpapering and the painting. When you get all those in one project, it's a fun job.
What do you like most about your job, what's your favorite part? I like hanging wall covering.
What do you say to the younger generation wanting to come into construction, what do you say to them about construction? Construction is a physical job, so if you're willing to work hard, and in a labor intensive environment, it's good work, good money, and keeps you in shape.
Do you think over the years the role of women has changed in construction? Yes. When I first got in construction there weren't women on the jobs. I was probably the only one and there'd be 200 guys on the job site. I would be the only female on the whole job site. Nowadays, I'm working side by side with other women from other trades.
What has been the highlight of your career in construction? Going from being an apprentice, knowing nothing to now knowing what I'm doing, and being able to tell other people how to do their job. To train them, bringing up the younger ones to take over as I look forward to retirement, I got somebody else coming up behind us.