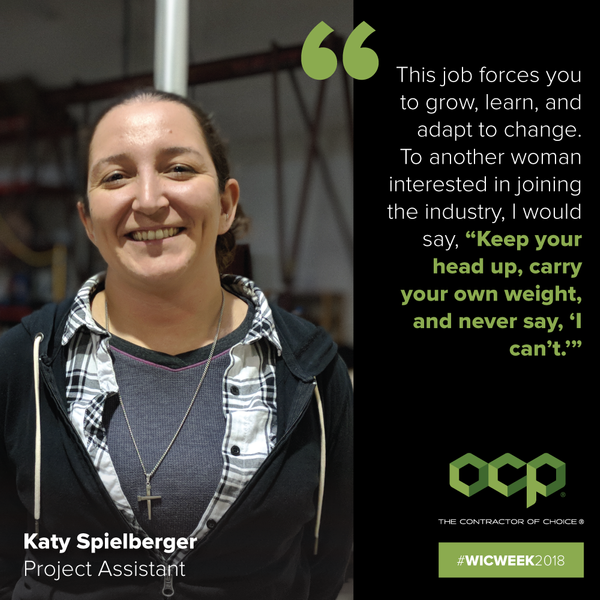 Katy Spielberger
How long have you worked for OCP and how has your role progressed? I have just recently started working with OCP in the past few weeks. My current role as Project Assistant has been progressing by exposing me to the processes and procedures that pertain to the management style of OCP projects.
What brought you to the construction industry and what made you stay? I was pursuing a traditional format of college study. However, I felt the need to learn something different or "outside of the box" as some may say. At the same time, I did not want to stop studying which lead me to enroll at the Lorain County Joint Vocational School in the building trades program. During my time in the program, the masonry instructor advised that I apply for the apprenticeship program with the Bricklayers and Allied Craft worker. Upon doing so, I received a letter of acceptance and entered in as a pre-apprentice. After completion of the pre-apprentice program, I was placed with Corcoran Tile & Marble, Inc., as a first year apprentice and continued working until I reached journeyman status. I stayed because it was different, challenging, and I was continually learning.
What has been the highlight of your career in construction? There have been many highlights along the way. One that sticks out the most, at this point, was running my first job in the field.
What is your favorite aspect of your job? This job forces you to grow, learn, and adapt to change.
What development, thus far, brought you the furthest in your career? While working in the field, I continued to pursue my Bachelor's degree at Baldwin Wallace University, triple majoring in business. During my studies, one assignment involved interviewing a small business owner. Slightly nervous, I asked the owner of Corcoran Tile & Marble, Inc., if he would mind sparing a few minutes of his time. He agreed and we sat down for the interview. A few weeks later, the owner of Corcoran offered me the invitation to learn the role of an estimator /assistant project manager.
What would you tell another woman interested in joining the industry? Keep your head up, carry your own weight, and never say, "I can't".
How have women's roles in the industry changed since you started? Slowly, I see more women working in the field as well as in project management and estimating.
What is your favorite project you have worked on? One of my favorite projects to work on was Eaton Corporation World Headquarters.
To learn more about the Lorain County Joint Vocational School's programs, visit http://www.lcjvs.com/.