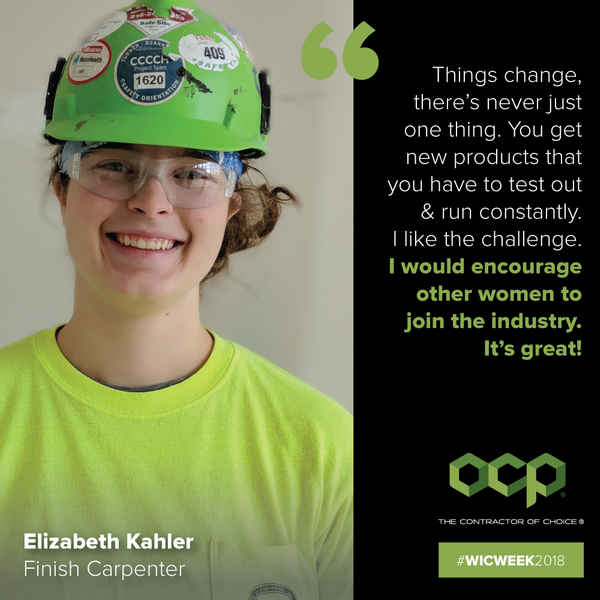 Elizabeth Kahler
FINISH CARPENTER
INDUSTRY TENURE: 6 YEARS
How long have you been in the industry? I've been in the industry for 6 years, and with OCP for 3 of those years.
How has your role progressed since joining the industry? I started out just insulating, and they finally got me off that. I was put on framework following that, and turns out I'm really good at frames. So they kept me on it. And now I'm a "frame hanging machine."
How did your career in construction begin? My dad's done small projects since I was a kid. But, when I was a kid I didn't want to pay attention to the work. I ended up going to a vocational technical school, and really got into construction then. Then I continued on with my construction career through college in construction management, and right now I'm getting the experience I need and I plan to go further in my construction career.
Where do you see your career in construction going? I'm going to stay in the field, however, I do plan on retiring early. But even when I retire I plan on teaching some form of construction. So my whole career will either be doing construction work, teaching it, or running it.
What is your favorite aspect of your job? Things change, there's never just one thing. You get new products that you have to test out and run constantly. It's really challenging. I like the challenge.
What would you tell another woman interested in joining the industry? I would encourage other women to join the industry. It's great! We need more women out here. I'd enjoy teaching women new to the field.
What's your favorite project you've worked on? I have so many. A favorite of mine is a project well run. There's too many projects to count. I enjoy working for OCP. They've been good to me, and I'm good to them.