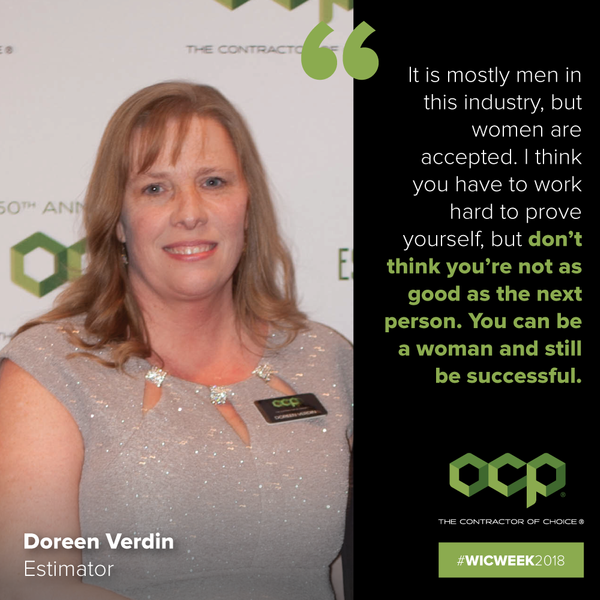 Doreen Verdin
What brought you to the construction industry and what made you stay? Well, when I was in school I took an estimating course and really enjoyed it and before I graduated I was given an opportunity to work at a company and do estimating, and from there I really loved it. I loved working with the numbers and doing different projects and overtime. I have enjoyed working with the the clients, and getting to do estimating all the time. I've stayed because I enjoy it.
What would you tell another women interested in joining the industry? Well, if they are really interested in the construction industry I would tell them not to be intimidated, yes it is mostly men in this industry, but women are accepted. I think you have to work hard to prove yourself, but don't think you're not as good as the next person. At the same time I wouldn't change who you are. I have seen women who are in the industry and think they need to act and talk the men, and they don't. They can still be a women in their own and still be successful.
What's the favorite aspect of your job? I like the estimating and being in construction because every job is different. Every job has a different challenge, but what's fun about it is that I have gotten to work with different people and different projects. I think there is a lot of differences, changes and challenges in working with people. It makes it fun.
So far what is your favorite project? Well, I have worked on a lot of projects in the past but a couple of my favorite projects are projects where I've been able to work with nonprofits. Nonprofits are very serious about their money. They had to work hard to get their money and get donations, so they really care about where the budget goes. I got to work on the Family and Child Abuse Prevention Center, and I was able to get them through the project and keep it under budget. At the end of the day they were very happy with some of the suggestions I made to help save money, but still have good product. Another project I worked on was the Neighborhood Health Association. And I was able to take the estimate that was way over budget, and work with the architect and owner to get it under budget to make it an achievable project.