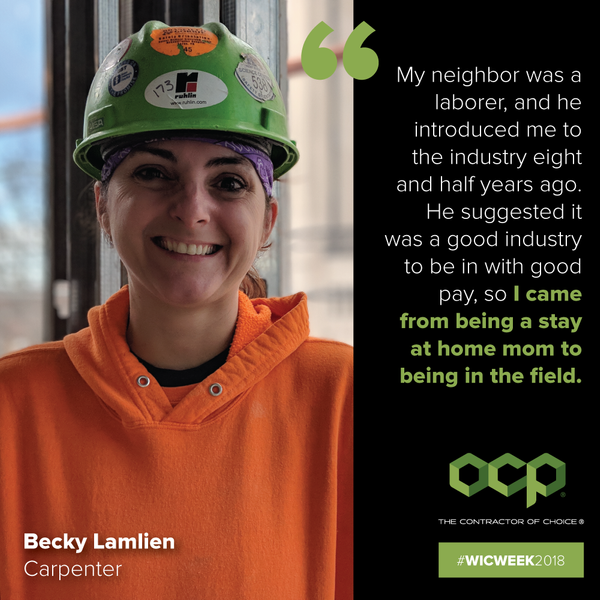 Becky Lamlien
CARPENTER
INDUSTRY TENURE: 8 YEARS
How long have you worked for OCP and how has your role progressed? I've been in the industry for 8.5 years, and worked for OCP for two and half years. I've gotten to learn a lot and do a lot more of everything. I feel like my opinions are listened to more in the field, too.
What is your favorite aspect of your job? I like to do framing the most. I like just being in different building and seeing different projects.
How did your career in construction begin? My neighbor was a laborer, and introduced me to the industry eight and half years ago. He suggested it was a good industry to be in with good pay. So I came from being a stay at home mom to being in the field. My neighbor was actually on my first job with me, so it definitely helped that I knew someone and could feel more comfortable.
What's your favorite project you've worked on? My favorite project is probably Akron Children's. My daughter has an autoimmune disorder and she's at Akron Children's a lot, so it was neat to be involved in a project that my family goes to a lot.
How have women's roles in the industry change since you started? I really haven't seen a whole lot of change other than the fact that there does seem to be a few more women around. It's been a slow change. Certain jobs can be loaded with women, and then on some jobs I can be one of the only women.