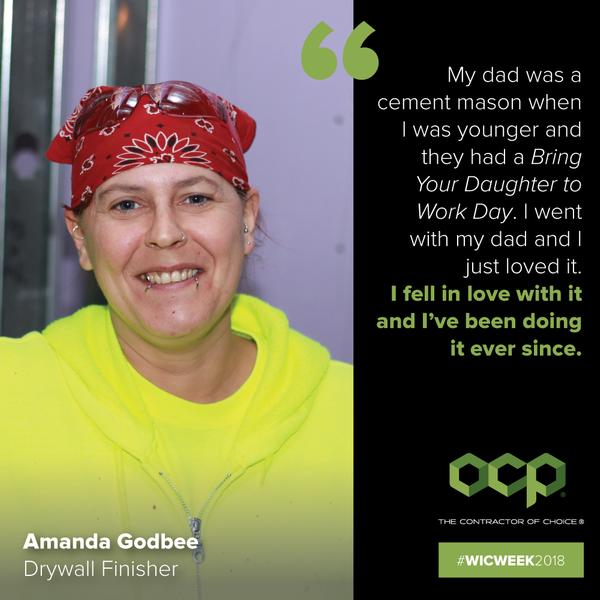 Amanda Godbee
DRYWALL FINISHER
INDUSTRY TENURE: 16 YEARS
How long have you worked for OCP and how has your role progressed? I've been with OCP off and on for 16 years, steady for the last three.
What brought you to the construction industry and what made you stay? My dad was a cement mason when I was younger and they used to have, I think they still do, Bring Your Daughter to Work Day, and I went with my dad one day and I just loved it, I fell in love with it and I've been doing it ever since.
What would you tell another woman interested in joining the industry? Don't be sensitive, it's hard, you gotta have a big head on your shoulders, but it's worth it. It's a lot of fun and I love my job, so as long as you like doing what you're doing, you should be just fine.
What's your favorite project you've worked on? My first big job with OCP was Levis Commons, and that's where I learned the most stuff. It was a huge project, and I met a lot of the people I still work with today there, and I just learned a lot overall. It was really neat to see it from beginning to end, and be there for the whole thing. It was EIFS. instead of drywall, so I learned most of my EIFS experience on that job. Plus with all the colors it was really neat to see the project come together.
What is your favorite aspect of your job? I guess as a whole, it would be the people that I work with and the busy environment. The comradery of all the men and women that work together to make everything happen as a whole and as a team is great. OCP is really a good place to be a team, I enjoy the consistent team effort.