Moxy Columbus Short North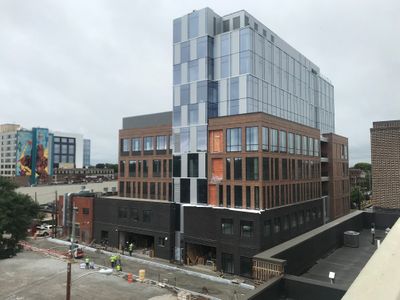 Moxy Columbus Short North
Completed: September 2019
Market: Hospitality
Scope of Work
Interior, metal stud drywall and installation,fire-stopping, toilet accessories, door frames and acoustical ceilings.
The Moxy Hotel Short North is a contemporary Marriott brand hotel with 116 guest rooms. Rising 11 stories, the building includes 150 parking spaces between the basement and third floor reachable via car-lift, restaurant and retail space on the ground level, office space, hotel rooms on floors six through nine, and a rooftop restaurant with striking views of the surrounding cityscape. The building's unique approach to parking without ramps is looking forward to a future where parking is unnecessary.
Moxy hotels are designed to push the envelope of a typical hotel stay. 24/7 bars, board games, and complimentary snacks provide a clubhouse like atmosphere. Moxy Blank Canvas, a unique art program connects emerging artists to their hotels to literally make their mark on their spaces.
The Moxy brand focuses on urban area locations providing smaller artfully designed rooms and spacious amenity areas.
Due to their knowledge and vast experience within the hospitality industry, OCP Contractors was awarded the project. The Moxy Hotel Columbus Short North posed challenges during construction due to the amount of drywall hung in very small, compressed guest room areas. In order to work in tight spaces efficiently, OCP utilized special equipment swing stages, prefabricated as many materials off-site as possible, and worked efficiently to install drywall and firestopping to minimize finishing time. The small working areas on-site made it imperative that order delivery and stocking of materials on each floor were closely monitored ensuring work could be done safely and efficiently. Additionally, framing and drywall remained on carts to simplify the process of moving materials.
To remedy STC issues common in hotels, the design called for double-layer drywall throughout the entirety of the hotel. Despite the small size of the hotel rooms, a significant amount of drywall went into each due to double layering. Stocking and material delivery was coordinated to allow for 3-5 days of installation at a time so as not to disrupt workflow with an excess of material in the tight spaces. To work efficiently, the second layer of drywall was strategically hung to hide joints and cut down on finishing time. Firestopping was completed using Hilti Firestop Top Track, which allows for firestopping to be completed in a single step during framing.
With thoughtful project coordination and the use of innovative materials, OCP Contractors exceed project expectations. Despite adds to scope and changes to design halfway through the construction schedule, the contractor was able to complete the work to a high level of quality while maintaining construction safety and working efficiently. The use of Hilti Firestop Top Track chosen by OCP greatly benefited the schedule by significantly minimizing the standard time for firestopping in the drywall hanging process. Additionally, the creative coordination of the second layer drywall hanging further benefited the project schedule. In all processes, OCP focused on working smart and safe to ultimately benefit the owner and other on-site trades.
Moxy Columbus Short North will begin accepting guests in October of 2019.